Home Inspection in Northampton, PA
Reliable Home Inspectors in Northampton, PA
At CDA Inspection Services, our Certified Home Inspectors in Northampton PA recognizes that buying a new home is a huge investment. Our expert inspectors will treat your home as their own with a detailed, multi-point inspection, and a comprehensive digital report about their findings. You'll go into the process of buying or selling your home with confidence after our professional inspectors objectively evaluate the major systems and components of your home.
Easy Septic Inspections
Our septic inspections are minimally invasive as we visually inspect your septic tank. Our professional inspectors will also use various tools to ensure that the absorption system is performing as it should. A properly functioning septic system is important for the health of you and your family, and it is also important to identify any issues before they become costly or damaging to your property. If you haven't had your septic system checked out in a while, trust CDA for reliable and easy septic inspections in Northampton, PA.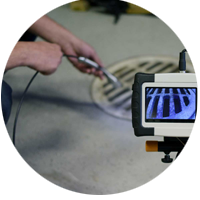 Lateral Sewer Line Inspections & Sewer Scope
If you'd like to evaluate the condition of your home's sewer line, call CDA Inspection Services for a sewer lateral inspection in Northampton, PA. Our inspectors will perform a sewer scope, where a camera is used to inspect your home's main sewer line to check for issues such as cracks or blockages. Don't wait for your sewage system to fail, call our top-rated inspectors to make sure it is in working order before repairs become exorbitant.
Commercial Property Inspections
Before you close on your new commercial property, it's vital to get an inspection performed on your building's components and systems. We will inspect your building's structure, and the plumbing, electrical, and HVAC systems to ensure that any costly repairs are identified before you close on your investment.
Learn More About Our Professional Inspection Services
Whether you're in need of a home or commercial inspection, sewer inspection, or septic inspection, you can rely on CDA Inspection Services for quick and reliable information about your property in Northampton, PA. Schedule your home or commercial inspection today!